Satan and the Antichrist have been defeated following the Great Tribulation. Now, an anxious world
watches Jesus Christ and the glorified saints of all ages return victoriously above the skies of Israel after.
Terry Sanders, formerly an obscure pastor, begins a new life like other returning saints. Jesus has given Terry a governorship and the arduous task of working with angels, saints and the left behind population of humanity to help usher in the New Millennium, prophesied to be humanity's greatest era of peace and prosperity.
But everyone does not want peace under Jesus Christ. Sinister forces secretly unite to destroy the new global religion, saints of God, and even the Lord Himself! Chaos engulfs the world again when Lucifer is freed from The Bottomless Pit and begins to deceive humanity. Can Terry Sanders discover his hidden, untapped power in time to save himself and those he has sworn to protect? The shocking impacts of his actions are revealed when he faces Lucifer, vengeful demons, and the Day of Judgment!

Where to Buy
E-Book
http://www.amazon.com/dp/B00GTAL82O

Paperback
https://www.createspace.com/4532179
Seven Years Until Eternity: The Rise of the Antichrist Book 1 in the Until Eternity Series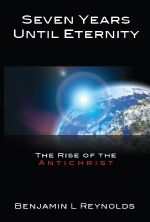 Nassir Ibrahim Berzovsky, the son of a Jewish mother and Muslim father is groomed from childhood by dark forces to one day control the entire world. He rises to political and military prominence, consolidating political states, religions and the world economy into one global entity.
Opposing Nassir is Terry Sanders, the pastor of a small church in Lansing, Michigan and one of a select few given a plan by God to survive the imminent Tribulation Period. Sensing the Rapture is near and fearing persecution, he marshals his church into hiding to await the Coming of the Lord, but soon finds himself at the epicenter of a global spiritual revival and becomes the target of demonic destruction and angelic protection.
Experience epic spiritual warfare across the natural and supernatural planes as told from the perspectives of the angels, demons and people vying for the souls of humanity.
Reviews
"Now that I finished the novel, I find myself drawn back to scripture reading the Book of Daniel and Revelations. Benjamin Reynold's description of heaven was over the top fantastic; it has stuck with me in the days since I finished his novel. I found his interpretation of the events surrounding the end-of-times creative and thought provoking. I'm definitely glad I spent the time reading his new novel." Joanna, Book Reviewer for The IE Mommy

"The characters are realistic, the story well written and through the author's flare for description and story telling, I felt as if I was actually present watching Heaven and Hell battle for our souls." - A. McMichael
Click Here for Free Sample
Where to Buy
E-Book
http://www.amazon.com/dp/B0045OULO2
Paperback
https://www.createspace.com/3483241
http://www.amazon.com
The Penny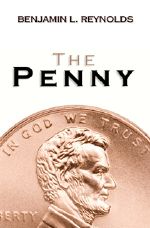 Randal Cole is the beleaguered pastor of a small, inner city storefront church. On the day he decidesto resign, Randal is approached by mysterious man outside of his church and asked to do something very strange...place a penny in the offering plate the coming Sunday.
Randal agrees, and quickly finds out that he is not the only one that this man has approached with this unusual request. He soon finds himself at the center of a global movement that radically transforms him, his church, and people throughout the world like never before.
Who was this strange man? Why was Randal and his small, seemingly insignificant church chosen?
Reviews
"I came away from this novella with my faith strengthened and a determination to trust and obey God more, being willing to surrender the things I struggle with to Him. I know Reynolds has not portrayed God's faithfulness and blessings as poetic licence but has based this on God's character, His Word and this author's own life experience being obedient to God. This gives me encouragement and direction. I highly recommend this novella. Entertaining but encouragement and food for your faith and relationship with God." - Peter Y.
"Very good theme and well written. I recommend this ebook too all that have faith and for all those that don't have faith. I'm proud to give this ebook five stars in its first review." John B.

Click Here for Free Sample
Where to Buy
E-Book
http://www.amazon.com/dp/B007BTQTYY
Paperback
https://www.createspace.com/3809917
http://www.amazon.com
Sons of God Daughters of Men
Caelan, a guardian angel since the dawn of humanity, is no longer content by his diminished role. Having fallen in love with Carissa, the human woman he has sworn to protect, he must forsake heaven when her life is put in imminent danger.

But Caelan is the not only angel with worldly desires. Other guardians share his lust for power and follow him to Earth. They build the great city of Bethyir and soon find the world of men more dangerous than they imagine. Challenged by humanity and plagued by demonic forces, the fallen angels and their children unite to build the greatest empire in human history, demanding worship as the Greek, Norse and Egyptian gods of mythology.

However, not all is well. Caelan' unnatural departure has upset the powers of heaven and hell. Lucifer unleashes dark, demonic forces from the depths of hell capable of destroying the fallen angels. Even worse, Caelan and his brethren may have discovered foes far worse than humanity and the powers of hell . . . one another.

Will they overcome and build a better world or plunge it into destruction?

Reviews
"The story revolves around the battle of good and evil, from a spiritual stand point and then taken from a personal opinion. The author does a wonderful job giving descriptions from an angel's point of view. The personal accounts are written so clearly that you can distinctly envision all that is taking place in the story. The story is not wordy or hard to follow. It is written very well and it draws you in to it and will not let you go." - Terri W.

"As a bible believer, I've always found the account in Genesis 6 very interesting. The way that the author describes the 'watchers'(angels) reasons for doing what they did, could have happened.I really enjoyed the story, the character development, and that the story is based on the bible. I only wish there were pictures of all the beautiful things that were described in so much detail.. Who knows? maybe there will be a movie one day!" - Erika G.

Click Here for Free Sample
Where to Buy
E-Book
http://www.amazon.com/dp/B007Y38YFY